Lake Superior.   Now I get it.  For years people have been telling me how gorgeous it is and how much I would love it there.  I listened, but the 12 hour drive always kept me away. Now that I have been there, I understand.
Superior.  This lake is serious stuff.  It's huge!  Cold. Gorgeous.  Eternally moody.
So, Lake Superior, I finally made your acquaintance.  Walter, Brendon, and I arrived at Rock Island Lodge near Wawa, Ontario in early June.  The lodge is located on a point of land at the mouth of the Michipicoten River, and specializes in paddle sports through Naturally Superior Adventures. The staff, food, and accommodations are superb.   If you ever get a chance, go there!
From June 5 – 9 Brendon organized a paddling and yoga retreat based out of the lodge.
Despite the cold, rainy weather, we had a blast with the 11 wonderful people who came out for this retreat.   We explored the Michipicoten River by kayak,. This area is bursting with history- First Nations, Voyageurs, fur trading posts.    Our guide even found a small piece of blue and white pottery embedded in the constantly shifting bank of the river from the time of the fur trading posts.
Our next big adventure on the water was a trip in a massive 660 pound Voyageur-style canoe to a remote beach for a camping overnight.
The wind was up and the water was pretty choppy, but despite my initial trepidation I found that the canoe was a tank.  There was no stopping us.
With everyone working we made it to the campsite after a couple of hours of hard paddling into the wind.   A bit damp (or soaked, depending on where we were sitting) but safe and sound.
This campsite on the beach was totally worth the effort!
In one direction we had a sheltered sunny beach surrounded by rock outcrops and hidden crevasses to use for a warming rest.
Looking back the other way, there was an absolutely gushing waterfall.   I have never seen such a volume of water coming over a falls.
After a long paddle, yoga on the beach felt great!
Our little campsite was memorable in so many ways, such as how beautiful little plants were growing out of rocks in the harshest conditions.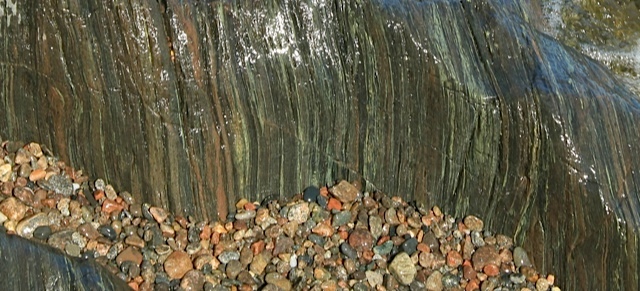 Even more memorable was when two of the people on our trip came back from an after dinner walk to join us at the campfire and announced they had just gotten engaged!   How cool is that?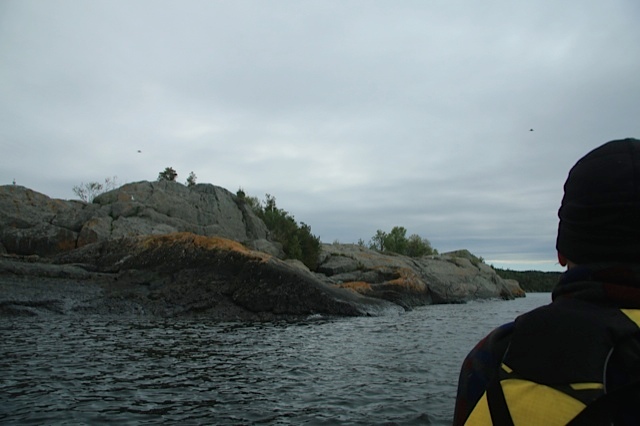 Our paddle back to the lodge was much calmer, and we were able to check out some really beautiful groups of islands.
We also visited a beach perfectly suited for rock hunting.
Every rock on the beaches of Lake Superior is beautiful and unique.   I wish I could have taken them all home with me.
Some folks liked to dig right in to feel the rocks with their feet.   I was too chilly to do that, but definitely appreciated the blue nail polish on these toes!
Arriving back at the lodge we had to do quite the team effort with our paddling to get us through the current of the Michipicoten River, which was trying its best to push us back out into the lake!  But we made it, and were treated to a delicious dinner and lots of laughs as we enjoyed each others company on our last night at the lake.
The great thing about being so far north is that the sunsets don't start until late, and they last forever.   So, before bed many of us headed down to the water for a walk and to watch the sky change.
Pleased to meet you, Lake Superior.   I'll be back.
Website for Rock Island Lodge here